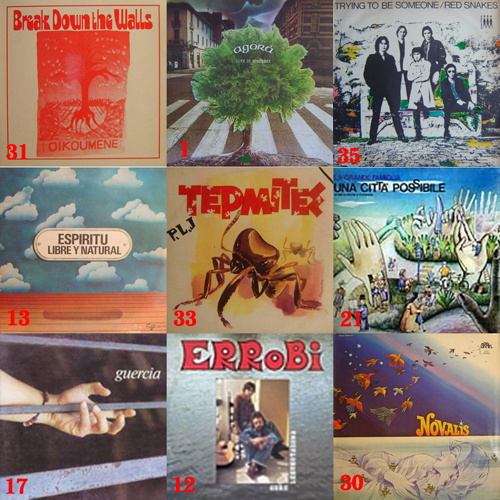 Please send email as follows.
1.The record(s) what you want.
2.Your payment method
3.Your name
4.Your country
We will soon confirm what you want you get + postage etc.
PAYMENT : We can accept PAYPAL or IPMO or CASH in registered letter.
GRADINGS : THE RECORD GRADED FIRST then the cover.
Order mail to : eurasia@qb4.so-net.ne.jp
It is possible to order with other records in the eurasia mail order list.
Get the item before it's gone!!!
Enjoy the list!
★NOTE★
Though you can order as well as a usual mail order of the main catalog of Eurasia,
This order takes an extra period for about two weeks. ( For the movement from the owner of the record to our shop )

- LUIZ COLLECTION -
1★AGORA "live in montreux" ( ITA ATLANTIC 75 GIMMIX WI ) EX+/EX US$180.00 ★SOLD OUT
Nice conditions vinyl, but there is a pressing flaw on B3 (light ticks in the beginning of the track)
2★ANOS PSICODELICOS "vol.1" ( BRA ? ) EX+/EX US$30.00
Brazilian compilation of rare psych/prog/groove tracks, mostly by Brazilian artists, featuring Paulo Claudio & Mauricio, A Bolha, Decada, Hydra, Vimana etc. This is a boot pressing. Not the best pressing, but worth for the rare tracks
3★ANOS PSICODELICOS "vol.2" ( BRA ? ) EX+/EX US$30.00
Same as above
4★ANYONE'S DAUGHTER "adonis" ( GER BRAIN 82? ) M-/EX US$30.00
black label★SOLD OUT
5★AQUARELLE "sous un arbre" ( CAN ATLANTIC 78 ) VG+/VG+ US$25.00★SOLD OUT
6★BARCLAY JAMES HARVEST "barclay james harvest" ( ITA EMI HARVEST 70 ) VG+/VG+ US$30.00
textured cover
7★BARCLAY JAMES HARVEST "once again" ( UK EMI HARVEST 79? FOC ) EX/EX US$35.00
laminated cover, mark on A-3 to A-4, but not affect playing
8★BARCLAY JAMES HARVEST "and other short stories" ( UK EMI HARVEST 78? FOC) M-/M- US$45.00
fully textured cover
9★BIRTH CONTROL "backdoor possibilities" ( GER BRAIN 76 FOC ) VG+/VG+ US$35.00 ★SOLD OUT
★DANDELION "dandelion" ( SPA GUERSSEN 06 WI ) NEW US$40.00
Out of print reissue
10★DELIRIUM "haum!/dubbio" ( ITA FONIT 72 7INCH ) M-/EX+ US$25.00
11★ENGEL DER VERNICHTUNG "l´amour fou" ( ITA ANGEL 88 WI ) EX+/VG+ US$28.00 ★SOLD OUT
Vinyl in nice conditions, but maybe needs a pro cleaning; 1,7cm damage on top edge (although not a split yet)
12★ERROBI "gure lekukotasuna" ( SPA ELKAR 78 WI ) EX/EX US$80.00 ★SOLD OUT
13★ESPIRITU "libre y natural" ( ARG MICROFON 76 ) VG+/VG+ US$50.00
14★FERNANDO YVOSKY "dos mundos" ( VEN GM 8? ) M-/EX+ US$40.00
15★FM "black noise" ( CAN VISA 78 WI ) EX+/VG US$15.00★SOLD OUT
16★GENESIS "and then there were three" ( UK CHARISMA 78 FOC ) EX/VG+ US$25.00★SOLD OUT
17★GUERCIA "guercia" ( ITA PRIVATE 82 PROMO ) EX+/VG US$ 80.00 ★SOLD OUT
18★HEART "dog & butterfly" ( US PORTRAIT 78 FOC WI ) SEALED US$60.00 ★SOLD OUT
19★INCONSCIENTE COLETIVO "voando alto/fadas douradas" ( BRA TAPECAR 76 7INCH ) EX-/VG US$25.00
Generic cover. Nice rural prog with female vocals
20★IQ "tales from the lush attic" ( UK CLASSIC ONE SHOE 83 WI ) EX-/EX- US$15.00★SOLD OUT
22★LOCH NESS "prologue" ( BRA SOM INTERIOR 91 FOC ) M/EX US$40.00
Brazilian prog, composed in late 70's, recorded in 89, issued in 91 in 1000 copies
24★MAGDA TAGLIAFERRO "dancas espanholas" ( BRA ODEON LONDON 72 ) M/VG US$60.00 ★SOLD OUT
archive unplayed copy, repair on cover
26★MAGNA CARTA "lord of the ages" ( UK VERTIGO 73 WI ) VG+/EX- US$25.00★SOLD OUT
27★MALIBRAN "the wood of tales" ( ITA PEGASO 90 WI ) EX+/EX+ US$25.00★SOLD OUT
28★MARILLION "kayleigh/lady nina" ( UK EMI 85 12EP ) EX/EX- US$15.00★SOLD OUT
29★MUTANTES "cavaleiros negros/tudo bem/balada do amigo" ( BRA SOM LIVRE 76 7INCH PROMO) EX/VG+ US$60.00
30★NOVALIS "novalis" ( GER BRAIN 75 FOC ) EX-/EX- US$50.00★SOLD OUT
31★PETER JANSSENS "break down the walls" ( GER PIETBIET 76 ) EX+/M- US$40.00
32★PETER JANSSENS "die statuten des menschen" ( GER PIETBIET 77 ) EX+/EX- US$35.00
33★P.L.J. BAND "termites" ( GRE VERTIGO 83 ) VG/VG+ US$180.00
scuffs and mark on B-1 (light clicks)
34★RAIMUNDO FAGNER "manera frufru manera" ( BRA FONTANA 76) M-/EX US$30.00
35★RED SNAKES "trying to be someone" ( BRA EQUIPE 69 ) VG-/VG- US$100.00
very rare original brazilian LP, listed on Pokora's book with 4 stars
36★RENAISSANCE "scheherazade and other stories" ( GER RCA 76 FOC ) VG+/EX- US$25.00★SOLD OUT
37★RICHARD COCCIANTE "mu" ( ITA RCA 72 GIMMIX FOC ) VG+/VG- US$65.00 ★SOLD OUT
gimmix damage
38★ROG PATTERSON "flightless" ( FRA BRAINWORKS 89 WI + 7 INCH ) M-/M-/M-/M- US$25.00★SOLD OUT
39★SOM IMAGINARIO "som imaginario" (second album) ( BRA EMI ODEON 7? ) EX+/VG+ US$38.00 ★SOLD OUT
Rare 70´s reissue
40★STRAWBS "strawbs" ( UK A&M 72 FOC ) EX+/EX- US$60.00 ★SOLD OUT
second pressing
41★STRAWBS "from the witchwood" ( UK A&M 71 FOC ) EX+/EX- US$60.00 ★SOLD OUT
42★THE VALERIANO GROUP "l'urlo del vento/slow down" ( ITA 78 TICKLE 7 INCH ) M/M- US$35.00
43★ZAUBER "dentro me/periferia" ( ITA DRUMS 82 7INCH ) M-/EX- US$20.00
Light waving and yellowish on the fragile cover
★PHOTOS★ You can see the large photos of the records at the following URLs.
1★ http://www.record-eurasia.com/download/1_Agora.jpg
13★ http://www.record-eurasia.com/download/13_EspirituLibre.jpg
19★ http://www.record-eurasia.com/download/19_Inconsciente006.jpg
24★ http://www.record-eurasia.com/download/18magda_espanholas.jpg
30★ http://www.record-eurasia.com/download/30_Novalis.jpg
33★ http://www.record-eurasia.com/download/33_PLJBand.jpg
35★ http://www.record-eurasia.com/download/31_BreakDown.jpg
43★ http://www.record-eurasia.com/download/43_Zaubersingle005.jpg